Blog Home
Delicious Desserts in September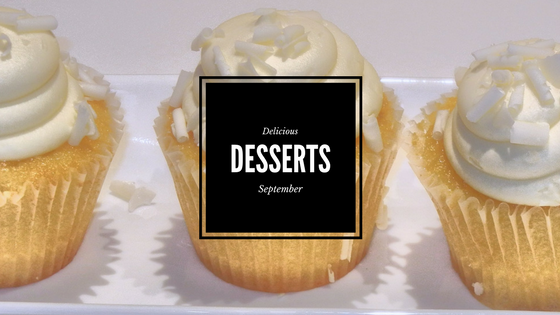 In this post, the Settler's Landing Blog is featuring five of our favorite fall recipes. We have cupcakes, brownies, donuts, and more to make in your apartment kitchen. We hope that you have a fantastic month here in California, MD and that you get the chance to enjoy a delicious dessert or two before September is through.
Double Chocolate Cupcakes from Will Cook for Smiles
Satisfy your sweet tooth with these double chocolate cupcakes. The white chocolate cream cheese frosting is unique and maybe our favorite frosting ever. Cream cheese, unsalted butter, white chocolate, vanilla extract, and powdered sugar combine to make it.
Pumpkin Cheesecake Swirled Brownies from Chocolate with Grace
Add an autumn touch to your favorite brownie recipes. The cheesecake swirl uses cream cheese, granulated sugar, egg, vanilla, canned pumpkin, and pumpkin pie spice. Enjoy these pumpkin cheesecake swirled brownies with a scoop of vanilla (or pumpkin) ice cream.
Baked Apple Donuts from The Cake Blog
Start your morning off right with a delicious baked apple donut. Coat these donuts in unsweetened applesauce, sugar, ground cinnamon, and ground nutmeg. Serve them up with your favorite coffee or a cup of hot chocolate.
Maple Snickerdoodles from A Latte Food
These maple snickerdoodles are delicious, chewy, and sweet. Make them with butter, sugar, brown sugar, maple syrup, vanilla extract, egg, baking soda, all purpose flour, ground cinnamon, cream of tartar, and salt. Top these cookies in cinnamon and sugar.
90-minute Brown Butter Cinnamon Rolls from The Baker Chick
This soft, doughy breakfast is our favorite way to wake up on a cool September morning. Our favorite parts of this recipe are the filling and the frosting. Use brown sugar, ground cinnamon, and butter to make the filling; finish the frosting with softened butter, cream cheese, vanilla extract, and powdered sugar.
What's your favorite fall recipe? Leave your favorite autumn recipe in the comments section. Thanks for reading our post!